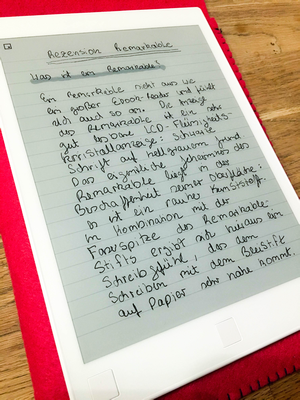 reMarkable Test – What is a reMarkable?
A reMarkable looks and feels like a big E-book reader. The display of the reMarkable is a very readable LCD liquid crystal display: black writing on a light gray background. The real secret of the reMarkable lies in the nature of its surface: it is a rough plastic. In combination with the fiber tip of the reMarkable pen, this results in a writing feeling that is very close to writing with a pencil on paper.
What can you do with a reMarkable?
Mainly writing – and in all variations: with line support or blank or on a number of other templates. It would also be possible to draw – such as small mind maps. The writing process is supported by different types of pencils and three eraser functions – also with a very practical aera fuction. You can use different planes for editing – this is especially handy for commenting PDF documents or E-books in E-PUB format.
How does the reMarkable fit into the "normal" workflow?
With the reMarkable APP, which runs equally well on PC and mobile phone and tablet, the documents are synchronized (tested with Windows 10 and lOS) The documents that were created on the reMarkable are immediately assssible on the PC and can be exported as picture or PDF. Conversely, you can drag and drop PDF documents and e-pub files into the reMarkable app and then immediately process them on the reMarkable. On the reMarkable there is also a fonts recognition feature available (this text was also created on the reMarkable).
The results of this text recognition is very good with normal wording and works almost as well for the German language as for the English. However, the results of the speech recognition can not be saved so far and must be further processed by mail.
reMarkable Test Technique
Inside the reMarkable is a 1GHz ARM -19 with 512MB DDR 3L RAM and 8GB memory. The Codex operating system, which is based on Linux, masters all tasks without delay. The e-ink display works with a resolution of 1827 × 1404 dots on a 10.3 "diagonal, which corresponds to a resolution of 226 DPI A beautiful display that is completely sufficient for writing A backlight is not present The speed of the E-ink displays is of course – due to the design – something sluggish, which is noticeable in the construction of new pages – something like an e-book reader.The battery with 3000 mA can be charged via micro USB and lasts for several days, the pen does not need power, and at the end has a small storage for a replacement tip – very handy.
reMarkable Test – Conclusion
All the details of the reMarkable are really well thought out. You realize that the developers have gone to great lengths to think about everything.
But most importantly, it's fun to write with. And although I can type with 10 fingers quickly, I prefer writing with a pen. The reMarkable has replaced all my notebooks after a short time. ☺ And that actually says it all. A clear buy recommendation for those who need a lot of writing and prefer to work with a pen rather than a keyboard.
Here you can find a discount of 80 euros on the reMarkable.
.

This work is licensed uner Attribution-NonCommercial-ShareAlike 4.0 International