Systematic Reviews in Educational Research – an Open Acess Handbook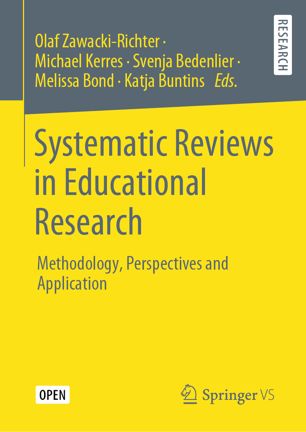 This new and Open Access Handbook of Systematic Reviews in Educational Research covers different aspects of a systematic review: methodical considerations, reflections as well as practical examples and applications. For example in Chapter 2 section 4 a reflection on Transparent Methodological Assessment of Studies is provided.
This book is edited by Olaf Zawacki-Richter, Michael Kerres, Svenja Bedenlier, Melissa Bond and Katja Buntins.
The full book can be downloaded from Springer for free as PDF or as EPUB.
All chapters can also be dowonloaded separately as PDF here.
Target Groups Researchers, instructors, and students in the field of education and related disciplines
ISBN: Print ISBN 978-3-658-27601-0 Online ISBN 978-3-658-27602-7
DOI: https://doi.org/10.1007/978-3-658-27602-7
Licence: CC BY